Hello Darlings, 
Ballet has been a part of my life since childhood... I trained for years and it is a passion that cannot be explained but only experienced. The pleasure and joy that it brought is a wonderful part of my life. Although I haven't had my foot is a ballet pointe' in years... it is still very much a part of my life.... just now only from as part of the audience.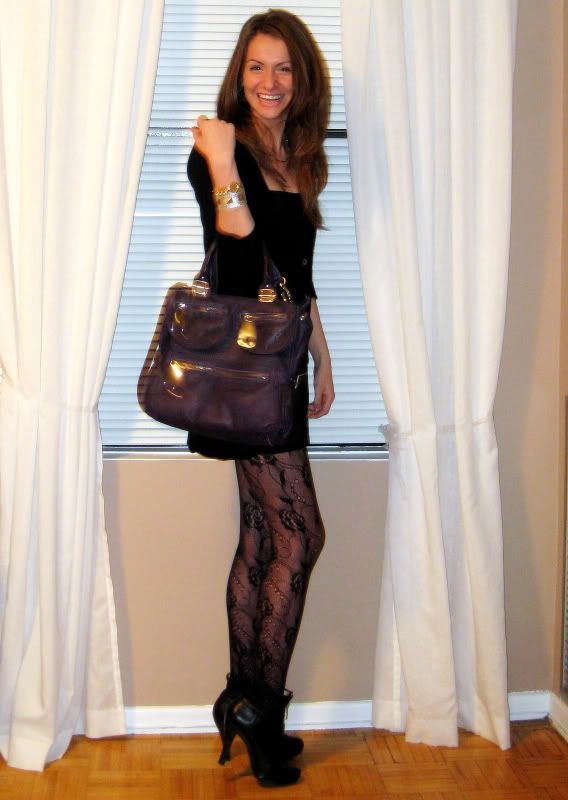 The 2008/2009 National Ballet of Canada season has arrived. The first production is " Seagull" ( I went to see last Saturday) - conceived by the world acclaimed choreographer, John Neumeier and based on the Anton Chekhov's play. The entire work was like a choreographed poem with a theatrical experience. Although slightly tragic, it explored human emotion in ways that I've never seen in ballet .... It was fantastic.
The Principal Dancer Zdenek Konvalina was absolutely amazing!
I decided to wear my favorite Nicole Miller little black dress with a cashmere cardigan, to cove up my shoulders... since I've been taught that bare shoulders are inappropriate at theaters and performing centers.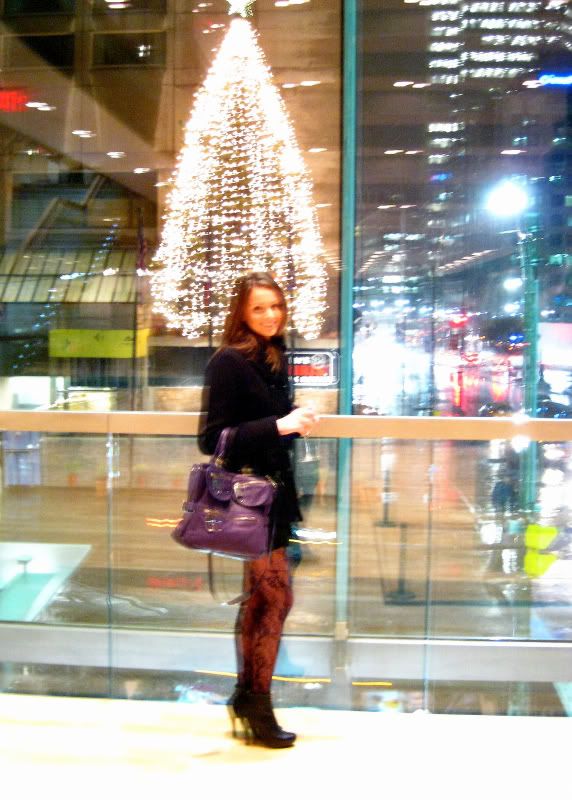 The photo is blurry, but the Christmas tree was so pretty and I love how all of the colors blend.
At the Four Seasons Center of Performing Arts.
Speaking of little dresses.... PersonalShopper( click to check it out) did made at interesting post with quotes from different bloggers on what the LBD means or represents to them? Including myself...
Here's my quote:
" OMG... I never really though about it! To me LBD is THE most important article of clothing in my wardrobe ... I believe that every woman needs to own that perfect little dress that will make her feel on top of the world. Therefore, I don't think that it's about the dress but how it makes you feel ... The perfect one can make a girl sparkle a little brighter !!! "
I am wearing:

Nicole Miller Bubble Dress CeCe Cashmere Cardigan Givenchy Floral Pantyhose Michael Kors Booties ( boy, do I love these babies) Ragina Italia Handmade Leather Bag Raymond Weil Diamond/Gold Watch A.V. Max Gold Studded Cuff Gold/Platinum Necklace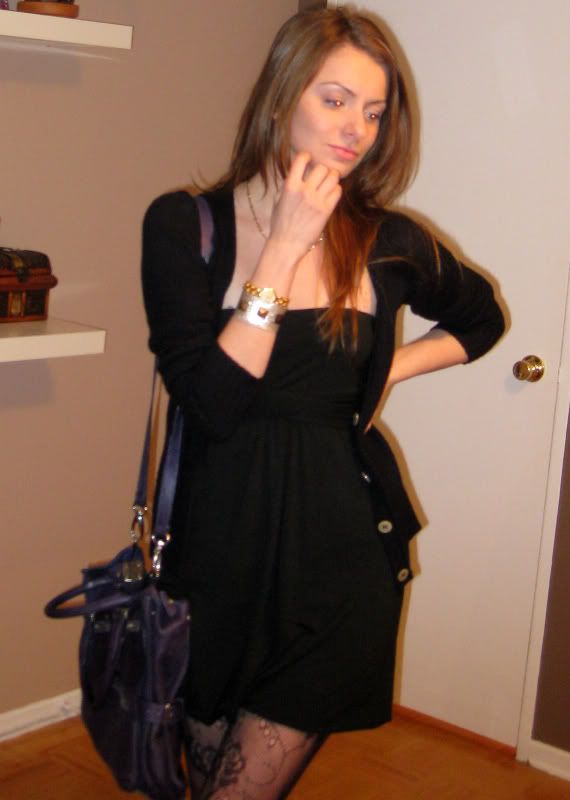 Here's a close up of the bag and the jewelry I wore...I just love the contrast between the classic Raymond Weil watch and the contemporary A.V. Max studded cuff with a thick gold/platinum chair to bring the two together.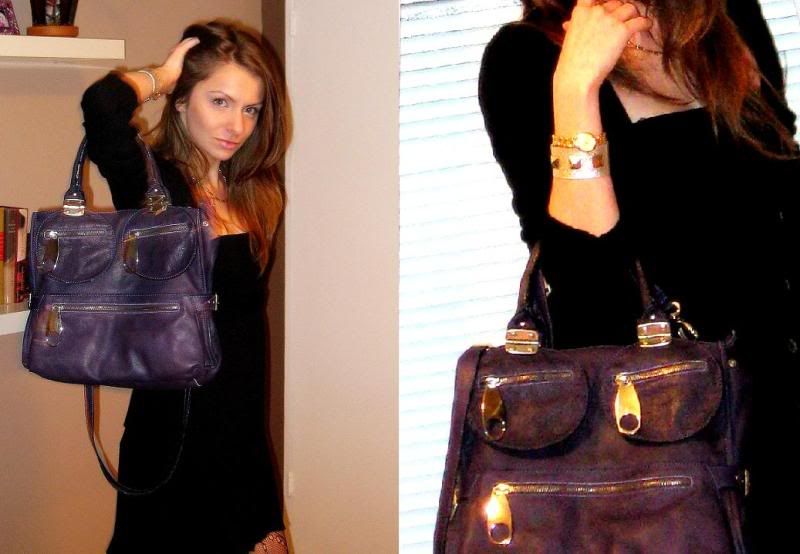 I also had a chance to indulge in a bit of shopping... and picked up this beutiful Handmade Genuite Italian Leather bag from Regina Italia and a pair of matching plum cashmere gloves from Portolano... and a pair of Juicy Couture flats - I just really love Juicy. I can't help myself, it's soo darn cute... lol. I can't wait to share it with you ...
OOh yea.. and tomorrow, I have my hair appointment. Although I never do anything exciting, I just get highlight to bring out my natural hair color and layers...but I am actually growing my hair out even more... What do you guys think, good or bad idea ? But I will definately post photos.... :P
P.S. For some time, I've receives comments aking me about my diet/exercise and beauty routine. I will make a post about my beauty routine. As for diet/exercise I don't really have any advice, since I don't believe in either, but will post my beliefs about having a healthy lifestyle.
Like it/Love it/ Hate it/ Dislike it - I want to know know your honest opinions ...
Sources Used: National Ballet of Canada; knight cat.