Hello Darlings, 
Vacation is for relaxing and getting away from your everyday life - but it is not the time to look frumpy. It is the time to look and feel fabulous - although easier said then done.... So here's my attempt at being vacation fabulous in my Tiny Bikini.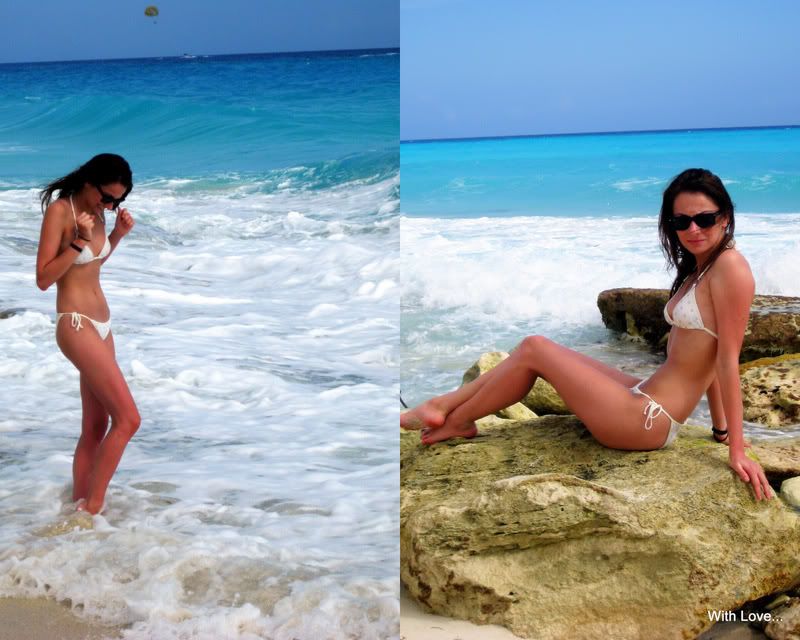 A bikini is the most important article of " clothing" during any beach vacation, but it is also the most dreaded one...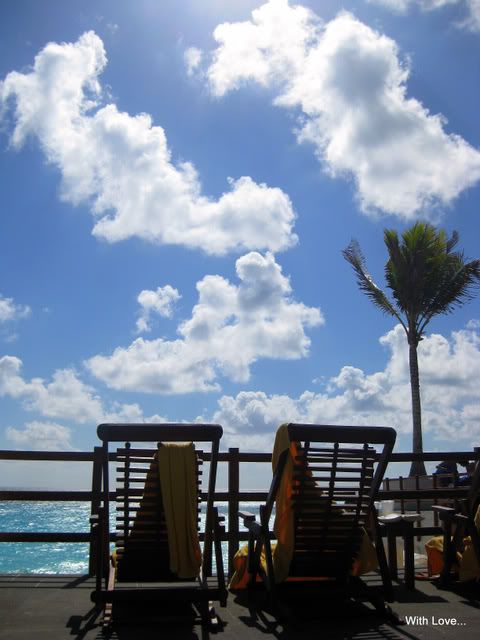 Prancing around in a bikini is of course intimidating, and I for one am uncomfortable parading around a resort half-naked. So I mostly wore a dress or shorts outside the beach area ( bar, restaurants, lobby, etc) ...
As for sarongs, I am not very fond of them, especially the long ones. Then again, if it works then it works.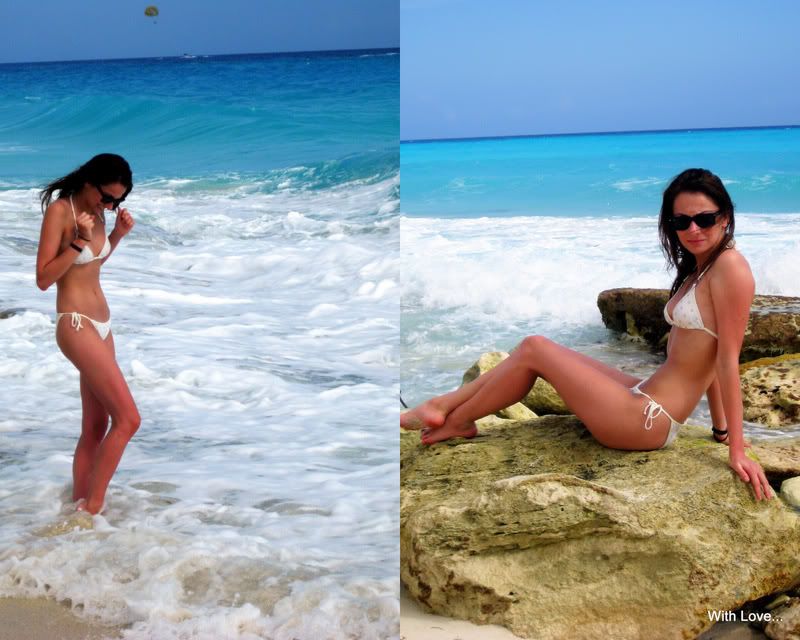 I am wearing:

Moschino Triangle Bikini Ray Ban Wayfarers Marc Jacobs Sunglasses American Apparel Lame Headband
In the swimming pool, I usually resorted to a one piece... swimming pool is the time for fun and games and the last thing I want is to constantly check if my tiny bikini is still there,lol...But a one piece should be on a sexy sice rather than a sporty side ( unless you're a serious swimmer,lol)...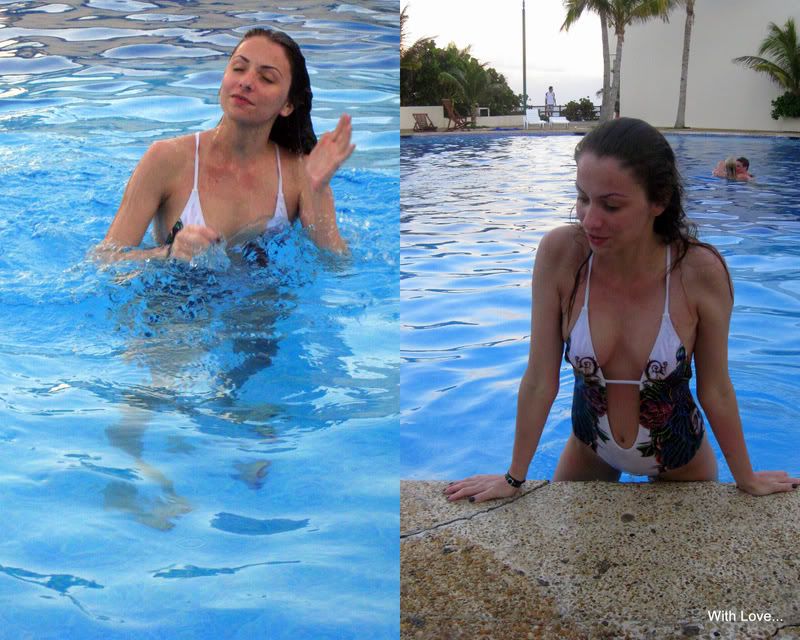 I am wearing:

Christian Audigier Peacock One Piece Swimsuit
The moment I say this swimsuit, I fell in love with it ... it is very comfortable and sits in all the right places. I don't think that any swimsuit ever made me feel as confident and feminine as this one ... if I could, I would wear it everyday.
Besides the swimsuits....
My vacation wardrobe was all about cute dresses and my favorite Miss Trish of Capri Sandals (I love them, so much).... easy to wear and easy to look cute in.
I am wearing: Ella Moss Daisy Off Shoulder Dress Miss Trish of Capri Sandals Marc Jacobs Sunglasses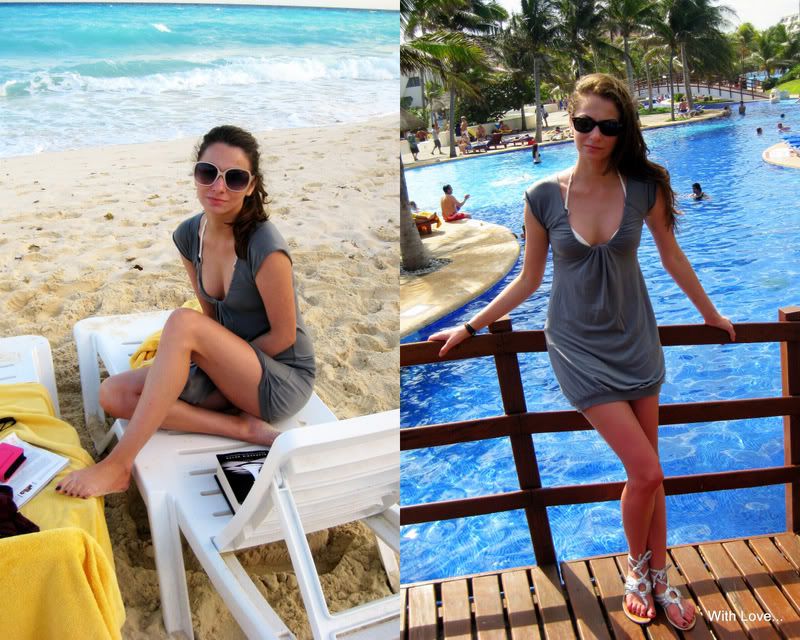 I am wearing: Wilfred Dress Miss Trish of Capri Sandals Ray Ban Wayfarers Marc Jacobs Sunglasses
Cute shorts are also perfect for the beach... just pair them with an adorable top, over your bikini and you're ready....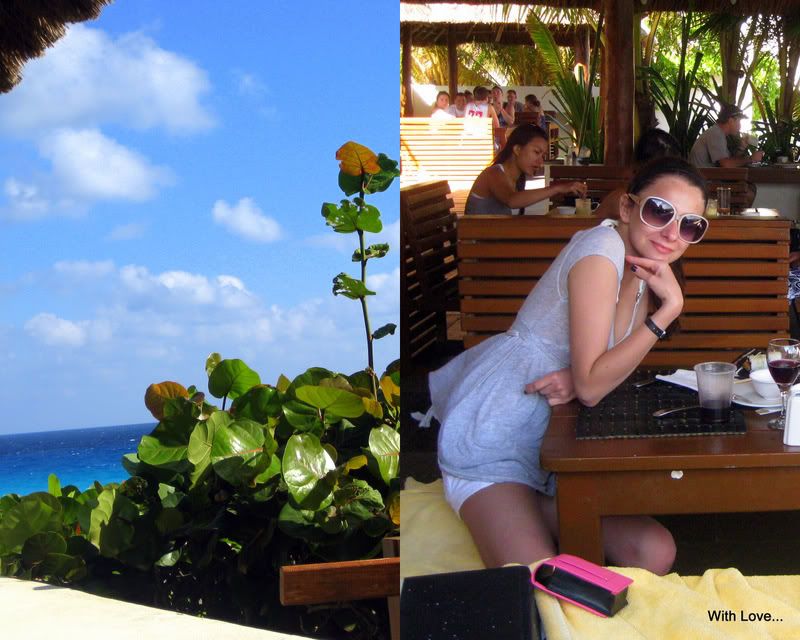 I am wearing: Abercrombie &Fitch Shorts Abercrombie & Fitch Top Marc Jacobs Sunglasses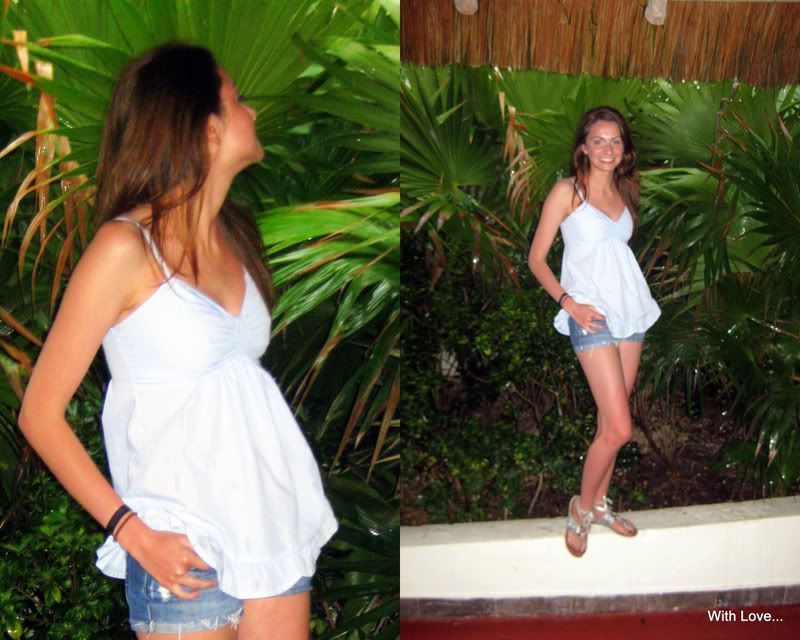 I am wearing: H&M Top Abercrombie & Fitch Shorts Miss Trish of Capri Sandals
As for my hair... well having wavy hair is a nightmare. However,I found that the easiest way to keep it looking neat and cute at the beach is by either french braiding it or putting it into a tony tail with a headband. For the night time, I usually let my hair out...but it was thanks to
TIGI S-Factor Smooting Lusterize
r
and
Bed Head Headrush
that my hair remained glossy and shiny, instead of turning into a frizz ball.
NIGHT TIME When the sun set, Cancun city came to life... The party atmosphere there is amazing and Andrew and I definately look advantage of that. Every night, we explored a new and amazing nightclub. Here are some of our memories...
The Coco Bongo shows are incredible.... amazing, performance, wonderful atmosphere... and always extremely crowded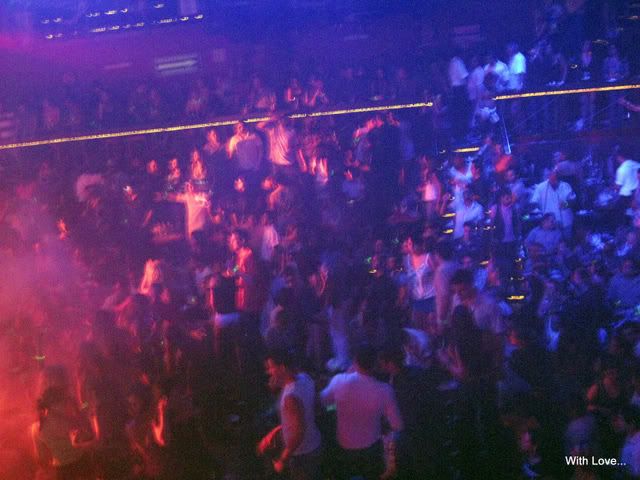 As for wardrobe, I usually wore simple dresses with heels or flats... nothing too complicated.
As for make up.... In a hot and humid climate, the last thing you want is to wear a ton of make up... half way through the night your face will be melting off - TRUST ME not a pretty sight ( and I saw a lot of it)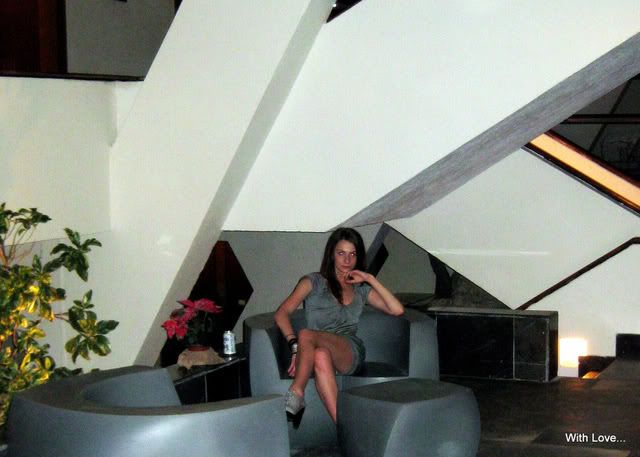 I am wearing:

Wilfred Dress Michael Kors Heels
Boy, do I wish that I was still there having the time of my life.... but instead, I am here.... freezing my behind off.This is the last part of my vacation post...
I wish you all a wonderful day !!!!